SHIFT DESIGN GROUP
In 2010, I founded a networking group for design, marketing and advertising professionals in Lexington, KY. The objectives for this organization are to create forums and events that encourage collaboration and idea exchange among creative professionals. Events hosted and produced include Happy Hours (Shift + Sips), Gallery Hop exhibits, Agency Tours, lectures, and workshops.
Visit www.shiftdesigngroup.com for additional information.
Project Roles Include: Organizer, Graphic and Web Designer, and Creative Director
Shift Logos
Original Shift Design Group Logo in a variety of colors.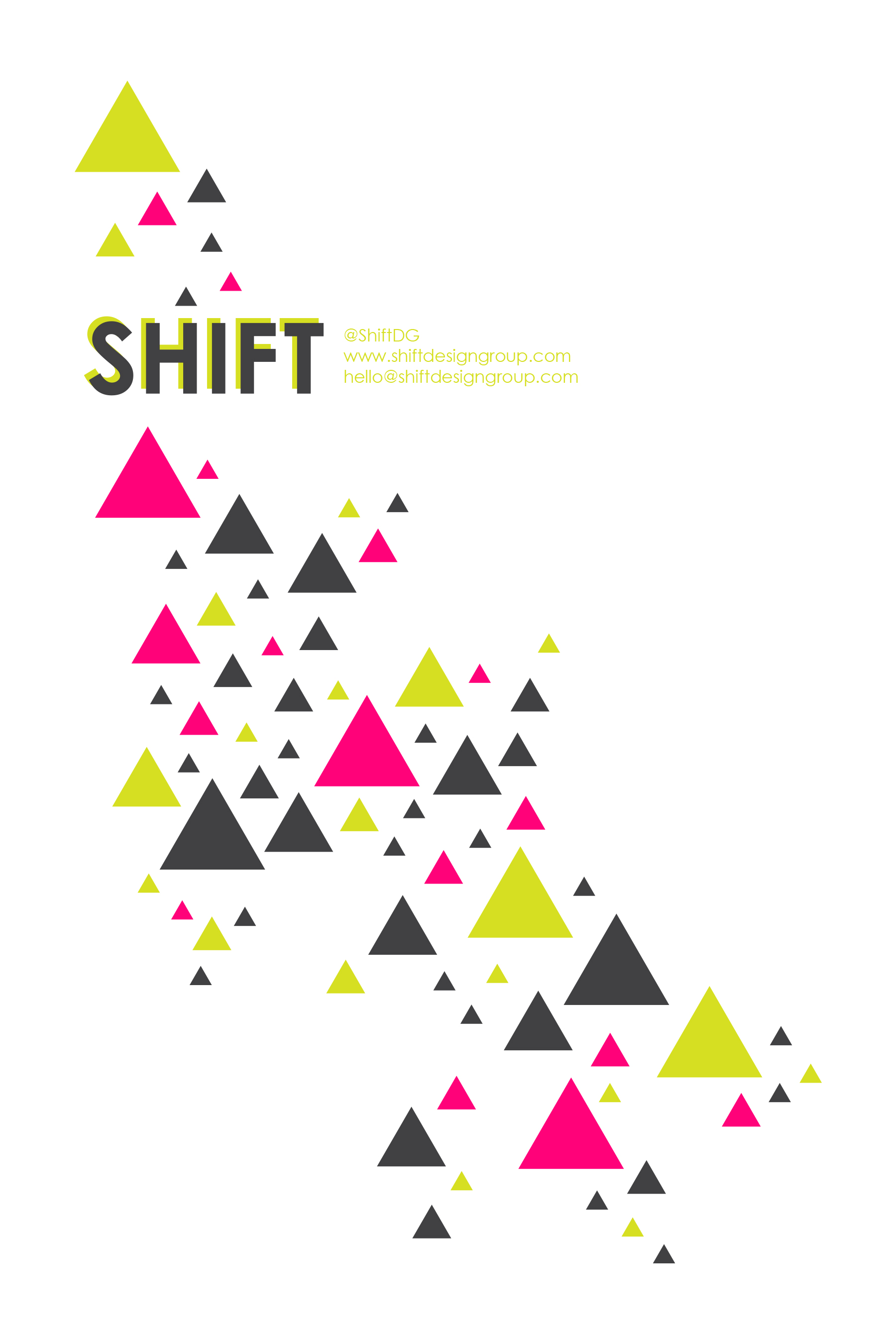 Shift Twitter Background
A background designed for Shift's Twitter account before their layout design change.

Shift Facebook Header
Header design for Shift's Facebook page.

Shift + Sip Banner
Shift + Sip Happy Hour events are hosted at a locally owned business, usually a bar or restaurant in the downtown area of Lexington.
Creative Collaboration Banner
Another event Shift has hosted is a creative meet-up where anyone can bring in work they are working on. The idea is to share and receive feedback, to brainstorm, and to become inspired. This event was hosted at a local coffee shop.

Q + A Session Banner
Shift hosts events with local business professionals. This event was with a CPA that specializes in small businesses. The meet-up includes a presentation and a Q + A Session. It is to benefit and promote the business and to provide the participants a professional resource that they can hopefully use.

Shift + Sip Banner
Part of the monthly meet-ups are Shift + Sips which are Happy Hour events dedicated to networking and connecting local creatives. This banner shows an event that was hosted at a local whiskey bar named Belles.

Shift + Sip Banner
Local creative agencies also offer up their offices as event spaces for Shift events. This particular Shift + Sip was hosted by local business Able Engine.

Agency Tour Banner
This is the Facebook banner for the first year of the Creative Agency Tour. This event partners with the local American Advertising Federation (AAF) and local creative agencies. Attendees can visit the participating agencies to get an inside look at the business and to better understand the creative opportunities available in Lexington. The event concluded with an After Party at a local publisher.
Event Description:
Lexington's 2013 Creative Agency Tour presented by Shift Design Group and AAF
Wednesday, October 9
Tour: 5:00 - 7:30 pm
Networking After Party - Smiley Pete Publishing 7:30 - ?

Participating Agencies:
Serif Group www.serifgroup.com/
Able Engine www.ableengine.com/
Balance Creative www.balancecreative.net
Bullhorn http://bullhorncreative.com/
Cornett IMS www.cornettims.com/
Shatterbox www.shatterboxstudios.com/
Group CJ www.groupcj.com

Lexington is known for it's horses, bourbon, and basketball, but did you know that Lexington is also growing as a creative hub?

Local creative organizations, AAF and Shift Design Group, are teaming up to put on a Creative Agency Tour. Local agencies are opening their doors to the public for a couple hours to welcome you in and to see what they are all about. You will have the opportunity to see their workspace, meet members of their team, and see their work. Following the tour portion of the evening we will gather at local publishing house, Smiley Pete, for a networking after party with live music, food and drinks.

At the first agency you visit, make sure to pick up a stamp card - if you visit ALL of the agencies that are participating in the tour, you will be entered into a drawing at the after party. We will also be collecting donations at the various locations to collect money for a local ART Non-Profit organization.

Join us for an evening packed with education, networking, and the chance to meet some of the key players in Lexington's Creative Hub.
Agency Tour Map
This map was used for the first Creative Agency Tour in Lexington. Seven creative agencies opened their doors to participants. Anyone from students to professionals attended the events and were given the opportunity to see and experience each agency and their individual character. The event concluded with an After Party at a local publishing house.